Publishing
Report completed by Pablo Rodriguez
Publishing was the first of three major topics addressed during the Knowledge & Networks: Canadian Art, Circa 2012 Study Day. Johanne Sloan moderated the session, which lasted just over 90 minutes. Brief but highly resonant remarks by Guylaine Beaudry (Director, Webster Library, Concordia University) and John O'Brian (Department of Art History, Visual Art & Theory, University of British Columbia) opened the session, setting the stage for the lively exchanges that followed. Also at the table were three university press and Canadian art history journal editors: Martha Langford (editor-in-chief, Journal of Canadian Art History/Annales d'histoire de l'art canadien; series co-editor McGill-Queen's/Beaverbrook Canadian Foundation Studies in Art History), Lora Senechal Carney (editor, Revue d'art canadienne/Canadian Art Review - RACAR), and Brian Foss (Journal of Canadian Art History; RACAR); Kate Steinmann (Director of Publications at the Museum of Contemporary Art, Chicago, and associate editor of Fillip); and three scholars involved in the early stages of ambitious publishing projects: Dominic Hardy (Quebec Art History Project), and research partners Heather Igloliorte and Carla Taunton (Indigenous Art Histories).
Despite questions of its present and future shape, publishing remains the primary means through which art historical work is disseminated, recorded, and assessed. Canadian art history stands to gain from digital and networked modes of communication, including the possibility of reaching larger or more dispersed audiences, and of working in new ways with texts and images. As noted by moderator Sloan, the imperative to become digital cannot be framed only in technological terms, because the collective desires of communities, constituencies and institutions will inevitably drive the mobilization of knowledge. Something that Study Day discussions made clear, however, is that digital publishing, while promising, remains for many a sensitive and unresolved issue. This report returns to some of the pivotal concerns of the morning session, such as the desirability of open access, the limits of current models of accreditation, and the costs and risks of digital production and dissemination.
Open access and the cost and value of digitalization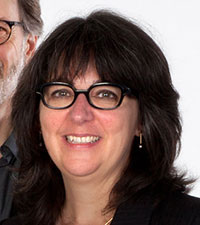 Guylaine Beaudry: "Technological time is not the same as social time." Guylaine Beaudry addressed the group first, evoking the emergence of academic journals in Europe during the sixteenth and seventeenth centuries as a reminder to take a farsighted and open-minded approach to the future of scholarly genres. "Technological time is not the same as social time," she explained, since even after the invention of printing, "it took one hundred years to have more printed material than manuscripts in libraries." But Beaudry's most compelling remarks were not so much historical as pragmatic. As the executive director of Érudit, a non-profit online publishing platform launched in 1998, Beaudry oversaw the print-to-digital transition of more than one hundred scholarly journals in Quebec. While she believes in scholarly genres, she also questions whether the future of scholarly publishing lies with the academic journal.
Beaudry, who is presently conducting a feasibility study for an open access press at Concordia, stated that the current rate of library spending on digital resources is unsustainable, not just at Concordia but in other places as well. Ideally she would like to see university communities take over their own scholarly production "instead of giving it away to commercial publishers" by developing legitimate, sustainable, not-for-profit vehicles of scholarly communication based on the principles of open access.
Beaudry further argued that viable open access solutions in journal publishing (i.e., those that bring journals into contact with international library markets) depend on taking delivery platforms as much as economic models into account.1 Likewise, in the realm of electronic books, she suggested that if universities are going to "offer a professional and credible alternative to commercial publishers," establishing the prestige of open access must be at the top of the agenda.2 (This was not the last we heard on the matter of prestige.)
The term 'open access' refers to any literature that is made freely available on the internet, and whose use is minimally restricted by copyright (i.e., authors' control over the integrity of their work remains protected).3 Open access does not abolish costs so much as transfer them from the reader to the institution or provider. In a time when neoliberal economic policies are spurring divestment from universities—often leaving the social sciences and humanities in the lurch especially—the question of who foots the bill of digitalization, and with what consequences, becomes even more pressing.
This was one of John O'Brian's main points in his opening remarks. O'Brian worries that researchers in this environment are "striking Faustian bargains with corporations" such as Google, and that traditional platforms of publication are becoming casualties of the transition to digital. Guylaine Beaudry agreed, adding that Google is digitizing university collections "for nothing … [with] no exchange of money," thereby transforming a public good into the corporation's "fond de commerce, their business." 4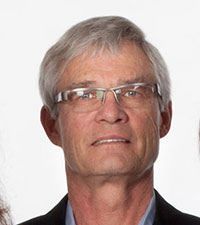 John O'Brian: Researchers in this environment are "striking Faustian bargains with corporations." O'Brian referred to a phone conversation he had with Jim Shedden (head of publications at the Art Gallery of Ontario), who informed him that digitization is rarely "much less expensive than print." While multimedia online books and journals can make art writing more dynamic, engaging, and accessible, good online delivery platforms remain quite expensive.
One print format that is doing well despite the continuing shift to digital is the exhibition catalogue. As O'Brian drew from his source at the Art Gallery of Ontario, and as was confirmed by Kate Steinmann from her experience at the Museum of Contemporary Art Chicago (MCA), some museums' print publishing programs are doing quite well. New digital platforms are still being explored in these institutions, but not at the expense of healthy print publishing ventures.
Sherry Farrell Racette placed high value on the print catalogue, considering it "the closest thing to the experience of the exhibition." Carla Taunton echoed this opinion, describing the catalogue for Close Encounters: The Next 500 Years as superior to the exhibition's website.5 Kate Steinmann agreed, adding that the rates charged by web programmers (compared to graphic designers) help to make web-based catalogue initiatives "dramatically more expensive" in the early production phases (albeit less expensive in the end-stage production and distribution phases, given that printing, binding, and shipping costs are saved). Yet Steinmann remained optimistic: "there's a potential for [online platforms] to be incredible."
Drawing on her experience in commercial publishing, Sara Angel countered John O'Brian's point about the cost of going digital. While online material may be quite expensive to produce and maintain, she said, commercial print publishers still need large print runs (of at least 10,000 units) to bring their product to market. Consequently, she wondered whether the various publishing interests were "restricting ourselves by saying that print … will remain important, when maybe we should be looking at [the] question of how we can produce content as effectively and as well as possible online?" Angel's question was particularly aimed at museum publishers, which, successful as they may be, still rely on partnerships and subsidies to produce their print titles (according to Steinmann the MCA's "target loss zone … is about $25,000 on each title").
The fact that many successful print projects also seem to be related to contemporary art (e.g. the "renaissance" of print at the New York Art Book Fair) raises another question. Assuming that exhibition catalogues about contemporary art produce the highest revenues, where does that leave print publications that deal with non-contemporary exhibitions and projects? Are these under increased pressure to find a home on the internet? How will they be funded?
Digital repositories and accreditation
For Brian Foss the ephemerality of online content poses particular challenges for digital art history. "Museums have published either entire catalogs or bits of catalogs online …. The Musée d'art contemporain [de Montréal] did this a few years ago." However, "the online stuff is gone [now]." Martha Langford, who is currently working with Bill Kirby to transfer the CCCA Canadian Art Database to Concordia University, agreed: "As a publisher, you are making marriage vows to a commercial supplier who is going to support this delivery system for you. When it goes away, content goes away … We have to ask ourselves: what marriage are we making here, and can we actually guarantee that the research will be here in the future?"
Digital repositories are one way of ensuring the perpetuity of this information, according to Lora Senechal Carney, who added that it is nevertheless a costly option, especially for smaller organizations that would have to receive funding from granting agencies, such as SSHRC. "You have to have somebody constantly refreshing the technologies."
Artexte, the Montreal-based documentation centre, plans to launch its own digital repository in early 2013. As director Sylvie Gilbert explained, Artexte's mandate is to collect art publications and printed materials generated by artists from across Canada. It is a non-profit organization that operates with minimal resources. "We've opted for a digital repository because its open access, open source, and we will be collecting material that's been published by small editors in Canada." The project is forcing Gilbert and her team to confront the issue of copyright, and to this end they are working with a lawyer to adapt copyright clauses in the participating museums' contracts.
Gilbert's interest in online publishing (Artexte will produce a PDF catalogue of the repository) is premised less on "the book as product," than on "the sharing of knowledge … [and] information." "I know it would be exciting to have much more than [a pdf of the catalogue] but for the time being I think this is a very decent way of collecting the information." The situation is different in universities, where, as Heather Igloliorte noted, students tend to expect greater searchability and interactivity from digital resources. Gilbert stressed that Artexte's approach will remain two-pronged: it will continue to collect publications and artists' ephemera, while developing an online presence at a scale that their resources will allow (they will not be able to archive artists' personal websites, for instance).
Mark Cheetham characterized peer review as a possible link between the different domains of publication addressed in this session: the museum, the university, and artistic production. Cheetham talked about peer review in light of what he considers an alarming trend in universities, whereby peer review journals, presses, and outlets are "identified … and ranked, rigorously" to expedite hiring, funding, and other administrative procedures. These remarks echoed in many ways O'Brian's concerns about the lack of vetted publishing venues for younger scholars.
Cheetham is especially worried that these ranking practices will push online writing, curatorial work, and writing for catalogs into a kind of "gray area" that lowers even further the value of these activities in job and funding applications. He also fears that these ranking practices will stifle creativity by dissuading scholars (especially those more vulnerable professionally) from doing that kind of work or indeed any work that is decidedly new. Kristina Huneault responded to these comments by elaborating on the administrative reasons why such practices are put in place, but ultimately called for active resistance to them.
The discussion of ranking schemes prompted Martha Langford to return to Beaudry's earlier call to bolster the prestige of open access in university publishing. She worried that peer review could become too closely associated with specific university communities. "I do fear that these university-branded forms of publication might be seen as parochial, somewhat self-serving, and not sufficiently muscular to say 'this is what's going on in Canadian art history'." At the same time, she was intent on countering the blunt instruments of ranking systems: "Can we not go out to meet this by saying that we have a very strong organization of Canadian art historians that is not going under the label of one university or another university, that is going to head off the kind of very negative—from my perspective—competitive ranking attitudes."
For Heather Igloliorte, the question of peer review is a sticking-point in contemporary Indigenous arts research. "A lot of scholars who are writing today do not have PhDs, they don't have Master's degrees; instead they have specializations in curatorial practice, criticism, and in other fields." Similarly, Carla Taunton had to press to get Queen's University to recognize Steve Loft, a Trudeau scholar, as an external examiner because he does not have a PhD. As Igloliorte and Taunton begin to "pull together a publication on Indigenous theories and methodologies" (which may or may not be digital), these hierarchies may limit their ability to secure funding, which might influence how they decide to communicate their research outputs. Something that Igloliorte and Taunton are certain about, though, is that digital platforms will allow their project to address transnational and global networks of Indigenous theorists and scholars.
Dominic Hardy followed Igloliorte's and Taunton's remarks by introducing the Équipe de recherche sur l'histoire de l'art du Québec (a team involving seven researchers from three Quebec universities) and its plan to produce the first historical overview of Quebec art "from earliest settler times until about 1960." The group is currently formalizing its research program, and they are uncertain about the publishing format (or formats) their "synthèse" will take: it "will perhaps be a paper thing, perhaps digital." As part of the project they are considering a website and a digital publishing platform, "the Cahiers de l'ÉRAQ," which would publish new research on a periodic basis.
For Sloan, ÉRAQ's Quebec history project brought up a tension—not overtly addressed in the session—between the various national, subnational and transnational inflections of "Canadian" art history. Langford extended this thought, and closed the session, by stressing how there are many things that resist or are under-recognized in grand art historical narratives—vernacular objects, our Indigenous publications. Throughout the session the digital was characterized as a crossroads, but in these last exchanges the digital took on a slightly different shape—it became the ground for speaking more broadly about what is at stake in Canadian art history.